Exploring the Relevance and Applications of Historical Images in a Digital Society
I'm thrilled to announce that I've been selected as recipient for a Fulbright grant to Hungary! Over the next 9 months, I'll be studying, researching, and working with the Fortepan Archive and the Museum of Ethnography to explore the relevance and applications of historical images in a digital society. My goal is to raise public awareness and support for these institutions and their resources by creating innovative, interactive public photo exhibits throughout Hungary. By taking the valuable photo archives to the streets as wheatpastings and peekboxes, I hope to free these archival resources from the limitations of traditional applications and help them flourish as cultural icons in our modern, digital society.
Why Hungary?
Hungary is one of my favorite places in the world. But, why?

The food is hearty and the beer is cheap. The geography and landscapes are breathtaking. A great night out with friends can range from a campfire along the river in an abandoned industrial area to entire apartment complexe filled with bands performing in each room. A visit to the Turkish baths, or Gyógyfürdő, is like stepping back in time. Budapest is one of the most live-able cities I've ever been too, thanks to its excellent design and public transport system. Each alleyway is filled with stunning and diverse architecture, or as the late Anthony Bourdain put it "if there was such a thing as building porn, it would be this". Hungarians are some of the kindest and most welcoming people I have ever met. History isn't a boring liberal arts class here — it's passionately (and defiantly) woven into the fabric of the culture and the lives of generations. Combine all this together and you get something like a really great bowl of goulash: practically impossible to describe, but after you've tried it — that's all you want to eat.
Most importantly however, I admire Hungary for many of the same reasons I admire my hometown of Ottumwa: both are filled with untapped opportunities to make a lasting impact through the artistic and marketing areas I am skilled and passionate about. To understand Hungary, you must understand their history; lost wars, devastating treaties, revolutions, and occupations. This gives everything context and perspective. People are working hard in Hungary to make it a better place. You see it when you walk down the street, you feel it when you walk into a ruin pub. While hard to describe and identify, there is a unique element of realness to Hungary, a human-element, that I've never found anywhere else in the world — and I can't get enough of it.
Why Now?
Hungary stands at a pivotal point in establishing its role as a global leader in the modern approach to historical photo archives and their encouragement of collective memory. Designed as an open-source, copyright-free archive, Fortepan is meant to be replicated by other institutions and countries to grow as a movement worldwide — just as we have done in Iowa. Although Fortepan is relatively unknown outside of Hungary, it has become a cultural phenomenon within the country. Hosting more than 105,000 images donated by everyday citizens, the organization has become a household name. It has also created a completely new way to look at and study our past - not from a history book written by the victors, but through images, taken by ordinary people.
Their upcoming exhibition at the National Gallery (April, 2019) attests to Fortepan's established presence as an innovative leader in photography and archiving. This newfound prominence presents a prime opportunity to promote the archive's value, its mission, and showcase its potential applications to a global audience. My work with the Museum of Ethnography will help bridge the gap between new ideas and a more traditional archiving approach, serving as a base for future work with other museums.
My Proposal
The grant proposal focuses on two art installation forms -- wheatpasting and peekboxes. These installations will be part of a comprehensive plan to help promote the archives, their resources, and events like the exhibit in the National Gallery. By placing these installations at strategic points, I hope the art will capture the imaginations, interactions, and social media posts of locals and visitors alike, acting as a catalyst for conversations regarding art, history, culture, and their relationship to one another.
Wheatpaste
Combining flour and water to make a glue, wheatpasting has been around for centuries. It's a popular urban art-form for a few reasons: it's cheap, it's fast, and it's bio degradable. It homogenizes with its environment - adding to the overall impact, especially when the subject matter relates to the installation's location. Over time, rain will eventually wash it away - however, I don't believe this devalues the art. I was fortunate enough to experiment with wheatpasting during the Better Block build in Ottumwa, where I lead a team of volunteers and transformed empty store windows into picture frames. It was a huge success; both as a learning opportunity and a chance to see the public's reaction to this new and relatable art.
Special thanks to Leigh Michaels for the photos (and encouragement), Max's Studio for the printing, Tommy Zittergruen for the photos below, Christner Contracting for the lift, the Ottumwa Regional Legacy Foundation & Brad Little for the permission, all the volunteers who helped create the art, and Main Street Ottumwa/Better Block for the incredible opportunity.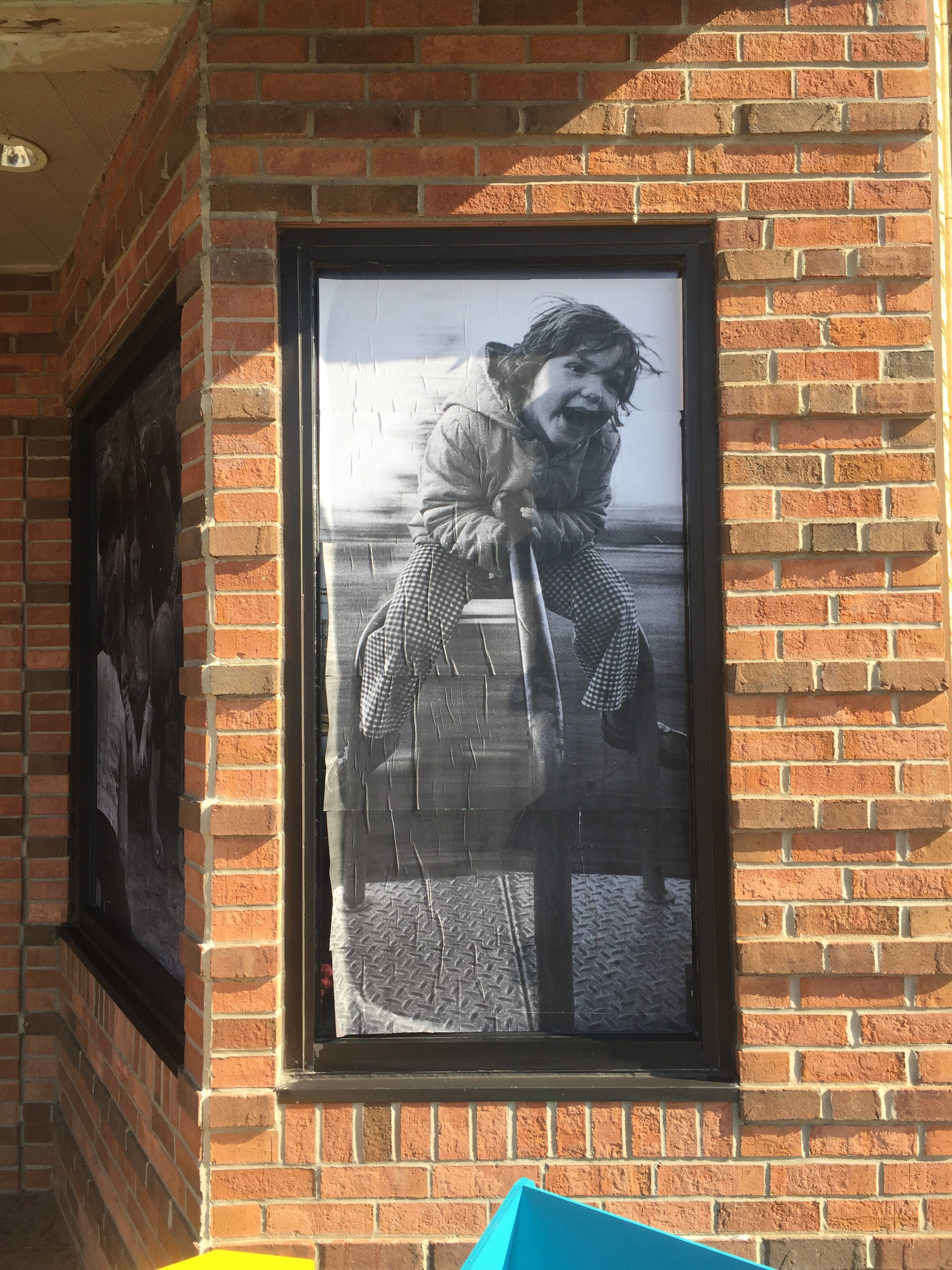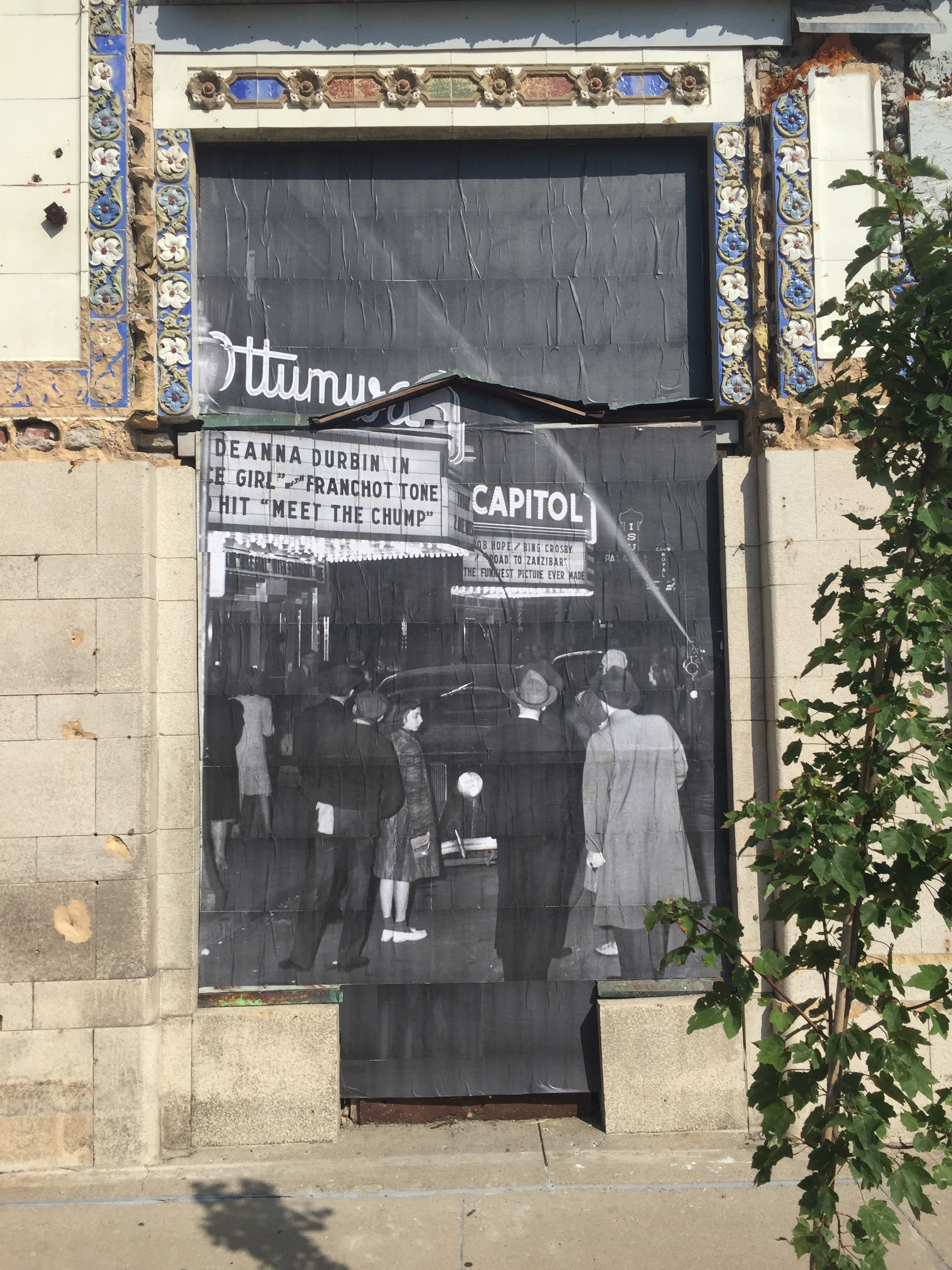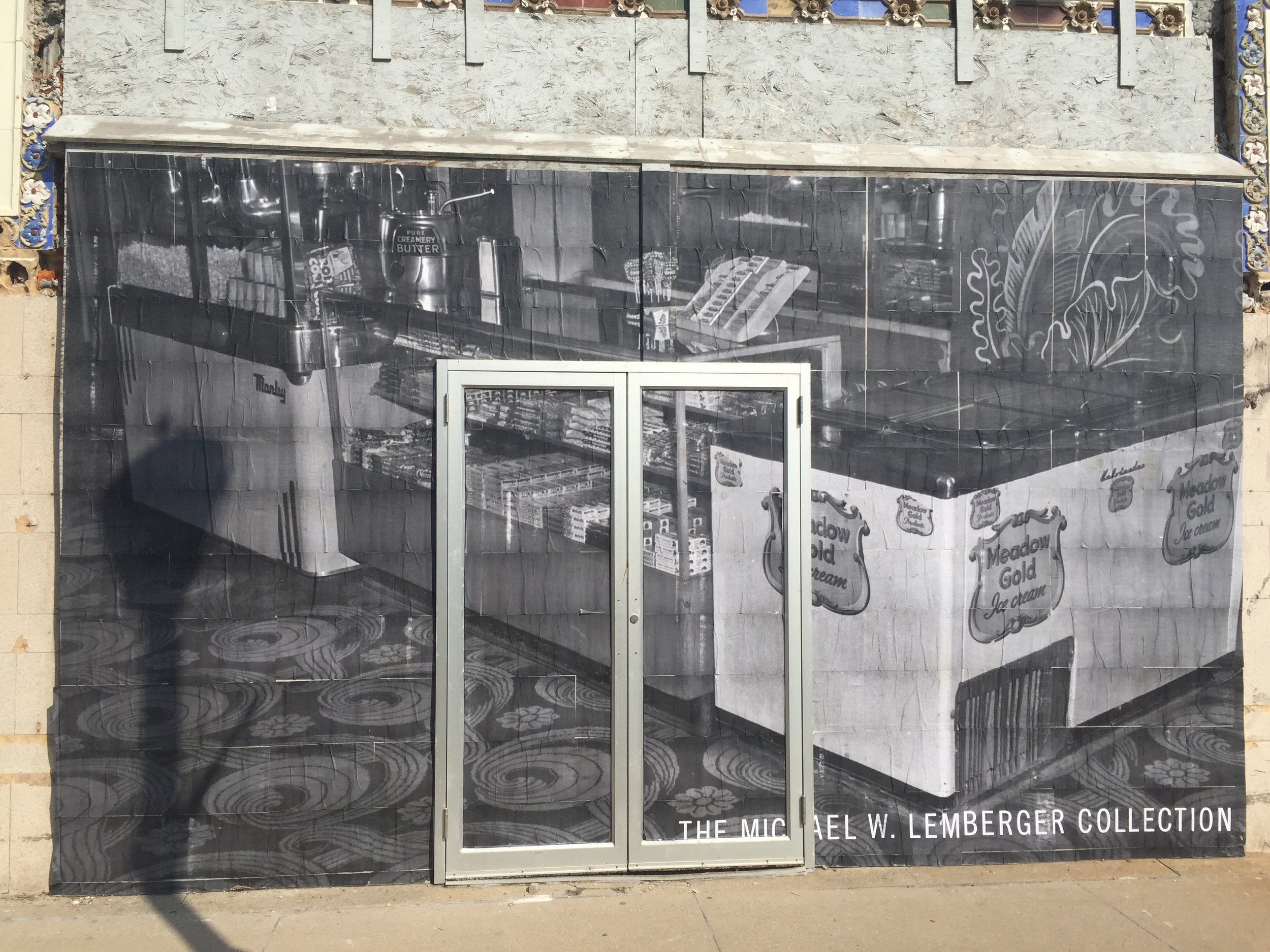 Peekboxes
Peekboxes are small, closed wooden boxes that contain layers of back-lit images. A small viewing hole at the front of the box allows viewers to "peek" into the past. When strategically pointed at a historical building or site of cultural significance, and with an archival image inside featuring the same building or site from an earlier time, peekboxes offer viewers a magical three-dimensional point of reflection and reference. Peekboxes will play a crucial role in promoting the upcoming National Gallery exhibit and showcasing "ForteGO", a groundbreaking mobile application that allows users to find and recreate scenes from history.
Special Thanks
This entire adventure has been nearly a decade in the making. I've been incredibly blessed to be surrounded with family, friends, teachers, colleagues, a church family, and a community who has so passionately supported me and all of my endeavors. I'm sincerely thankful for your guidance and support. But, there are a few who deserve special thanks:

First and foremost, to Dad, Aaron, and Gramma - for your unconditional love and support.
To my teammates - Joey, The Brooks Family, Joe, Nathan & Nicole, Jason, Paige, and Nick & Emily & Ashlyn.
To Jacob, Dana, and Collin - for your outpouring of dedication and excellence to Proud and Torn.
To all my drum corps instructors, particularly Pirate and Laura - who taught me to embrace discomfort as an opportunity to learn.
To Pam and LeAnn - for the introduction to Michael through his collection, for the abundance of past, current, and future opportunities that made this trip possible, and for your passionate support, guidance, and encouragement.
To Feri and Zsuzsa - for making my first trip possible and introducing me to my second home.
To Leslie and Kristina - for sitting me down in the sand at Lake Balaton and showing me a completely new path.
To Bettina - for the immeasurable opportunities, connections, knowledge, and experiences that have shaped my future. If every student had a professor like you, the world would be a very different place.
And of course, Dr. Johnson - for your emails, mentorship, and setting this entire adventure into motion with your stories during Wind Symphony rehearsals of your studies in Pécs as a Fulbrighter.


The potential outcomes of this opportunity will be life changing. Sometimes, it's hard to know exactly where I'm going. And while the future is filled with unknowns, I do know that right now, this is where I'm supposed to be. I hope you'll follow along!

Köszönöm Szepan!